Basketball News
Grays Harbor hires Chad Allen to lead Choker Women's Basketball
The Grays Harbor College (GHC) women's basketball team's newly appointed head coach, Chad Allen, hopes to reverse the team's direction. The Chokers have won just eight conference games in the last five seasons combined. Allen acknowledges that turning the team around will not be easy, but hopes to rise to the challenge.
Perhaps more importantly, Allen hopes to create a mutually beneficial relationship with the community and grow the talent base of Grays Harbor's local student athletes. He believes that community support is a two-way street and intends to meet his fan base in the middle.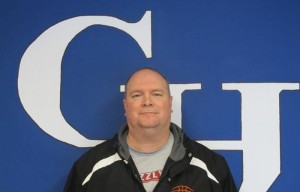 Grays Harbor College recently appointed Chad Allen to lead the women's basketball program. He is looking to source talent locally.
"I would like this to be a community program," Allen said. "I want to be able to get our players out into the community. I want us to help out with basketball camps and other things. In order for our program to progress, we need support from the community. Whether that's helping out with our fundraisers, or coming to the games and showing support."
"We're here to help kids get an education, number one," continued Allen.  "We want to use their strengths to help out with that education, but also to progress them to the next level, academically or athletically. We want to use our community to do that.  This is a great academic institution."
Allen's first priority will be recruiting players. However, recruiting in his first season as head coach will be a tough task. Allen was not hired until after the high school state basketball tournament was over, so he is a bit behind other coaches in the recruiting game.
Allen will place a special emphasis on recruiting players from Grays Harbor and Pacific Counties. He believes that taking advantage of the local talent pool will not only help his team win games, but also increase game attendance and community support. Last season, GHC had just three local players on its roster, Hoquiam's Chelsy Stewart and Raymond's Mallory Maneman and Courtney Hagain.
"Right now I'm trying to figure out the barriers," Allen said. "Why wouldn't somebody want to come here? Why don't we have enough local players? We have local players who can play. We need to address some of the issues of why they wouldn't want to stay."
Allen also plans to assist in the development of young players to help local athletes reach their full potential. He wants to be highly visible in the local high school basketball community and build working relationships with coaches.
"If you can't find players here, then you have to go somewhere else, but I want to find it here first," Allen said. "If I can't find it here, let's make it here. I believe that I can help all the schools on the harbor as well as Grays Harbor College. We have tremendous depth of great coaches in our area, men and women. I want to try to take advantage of the resources that we have."
Grays Harbor College women's head coach, Chad Allen, is looking to turn the team around. He previously coached at Hoquiam High School.
In 1997, Allen was an assistant coach for the GHC men's basketball team before leaving to take the boys head coaching job at Montesano High School. Allen's Bulldogs teams went to the district tournament nearly every season.
In 2009, Allen left Montesano to take a teaching job and become the girls head basketball coach at Hoquiam High School. After a successful run at Hoquiam, Allen resigned from his coaching position following the 2012-2013 season due to a difference in philosophy with the administration.
Following his resignation, Allen took a year off from coaching, but remained visible in the local basketball community. He frequently attended high school and college basketball games and even observed some practices.
"I had a great year off because I was able to learn," Allen said. "I went out and watched other coaches and players with a different eye. When you're coaching, you can't see a lot of other basketball. I had a chance to see a lot of basketball and visit with other coaches while they are practicing."
Allen will adapt to his personnel, but hopes to employ the same on-court strategy as he did at Hoquiam.
"At this level, I don't think that people should have to just sit on the bench," Allen said. "It's hard to be part of a team if you never get to play. I believe that everybody can give effort and play defense. My philosophy here will be to try to get the best athletes, play an up-tempo game with press defense and try to fatigue the other team. I hope that people will say that Coach Allen's players work hard, play scrappy on defense and play aggressive on offense and defense."
back