Basketball News
Winning legacy: LCC's Roffler still focused as 500th win approaches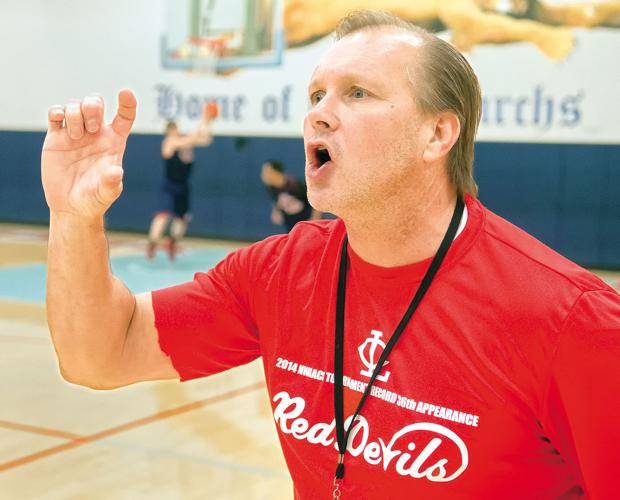 LCC head coach Jim Roffler enters his 24th season with the Red Devils needing only 15 wins to get to 500 for his career.
November 26, 2014 11:40 pm • By Rick McCorkle - The Daily News.com
In 1991, the first Gulf War started in the Middle East, Pearl Jam released its debut album "Ten" and the Soviet Union broke apart.
It was also the year Lower Columbia College hired Jim Roffler to lead its men's basketball program. Twenty-three years later, he's still on the LCC bench, with his 500th career win in sight.
"When you first start coaching you want to win a game or two in order to see if you can do it," Roffler said. "It's more than winning games. It's what you're able to do as a mentor and helping guys to get the best education and quality of life possible by teaching them values."
When Roffler was hired at age 29, he already had an extensive coaching resume.
After a two-year playing career at LCC and stops at Western Washington and Alaska-Juneau, Roffler guided the LCC women to a 22-7 record and postseason berth in the NWAACC Tournament during the 1984-85 season. He went off to complete a physical education degree at Eastern Washington after that, and was coaxed into returning to Longview by LCC coach and athletic director Gary Earnest.
"Jimmy was scouting games in Tacoma for me, and I talked to him about coming down and becoming an assistant," Earnest said. "I got to know more about his basketball philosophy when we sat down after every game and watched game film."
Earnest was impressed with Roffler's acumen, and when he became too ill to coach midway through the 1990-91 season, Roffler took the reins as interim head coach. Earnest eventually returned, with the two teaming up to guide the Red Devils to the NWAACC championship game later on that winter.
By then, it was clear Earnest had found his successor.
"I went to the school administration and told them we needed a younger guy in there to coach and recruit," Earnest said. "They approved it and we switched positions with me becoming an assistant coach."
Roffler has molded the Red Devils into an effective hi-octane, run-and-gun attack, and rarely wavers from his gameplan. Because of his success, Earnest is convinced Roffler's coaching talents exceed 85 to 90 percent of his peers in the country.
"Jimmy knows the X's and O's," he said. "He has a system and sticks with it, and if he gets the kids to buy in, they get better and better. Having a coach of his ability staying at LCC is unusual."
Roffler said he could've ventured out and taken jobs as an assistant coach in an effort to move up the ladder in the Division I ranks. It was just never a priority given his circumstances.
"I had a young family and probably would've had to uproot them four or five times," Roffler said. "My wife was also trying to get a second degree in education and getting roots planted as a teacher."
Through the years, Roffler has refined the art of recruiting players and filling the eight partial scholarships he has to offer annually.
From his assistant coaches to the athletic director, his staff and school administrators, Roffler said that everyone has a role in the success of the recruits.
"Everyone has the same mission, passion and commitment to the student-athlete," Roffler said. "My family has also given a tremendous amount of support. It's been a nice way to raise the family and keep them in something positive and culturally inclusive."
LCC Athletic Director Kirc Roland said Roffler's coaching talents are unsurpassed in the conference.
"He's taken greatly talented teams and won championships, and has taken lesser-talented teams to the tournament," he said. "He's the reason we've been to the tournament a conference record 36 times."
Besides his command of coaching, Roland said Roffler has the ability to blend people from all walks of life into a cohesive unit.
"In his heart, Jimmy believes everyone deserves an opportunity to succeed in college and life, and that part of his mission is noble," Roland said. "He wants them to do what is needed in college and on the team to be successful."
One of the many players Roffler helped through the years was Jason Buffum, now the boys basketball coach at Woodland.
"I bounced around in college and he gave me a second chance," Buffum said. "He gave me a chance to play on a team and be a part of it, and where I'm at today is because of him. My parents are why I got into basketball, but Roffler is why I got into coaching."
Buffum learned from Roffler as a player for two years at LCC, and as an assistant coach for two more seasons after that. He still uses Roffler as a sounding board for ideas to this day, and implements many of his concepts when guiding his Woodland team.
"Jim taught me there's much more to basketball than one guy making plays and other guys supporting the system," he said. "He taught me you can take the best player off the team and still win with the other guys by making adjustments. What he does with the talent he has each year is amazing."
Never was there a better run for Roffler at LCC than those magical three seasons between 2004 and 2006, when the Red Devils won back-to-back NWAACC titles and 11 consecutive tournament games.
The past two years, however, have been challenging as the program has had to make due without a gym to call home while the new Health and Fitness Center is under construction. Practices at Mark Morris run until 10:30 or 11 p.m. many nights, with several players having to get up bright and early the next morning for classes.
"These guys have a lot of long days and a lot on their plates," he said. "It's what prepares you for the professional world as a husband or father, and the daily grind of life.
"... Being in the title game five of eight years is success on the court, but I would trade that for the success in the classroom and socially what they've been able to accomplish with their quality of life."
Through the years, Roffler said he has strived to continually put a quality team on the court which is representative of LCC and the community.
After nearly a quarter century of coaching and approaching a victory milestone, Roffler said he wouldn't change any part of his coaching career.
"I don't live in the past and know I can't go back and change anything," he said. "This went from an experiment to becoming a career.
"I did the best I could with the knowledge and education I have."
back