Basketball News
Red Devils edge Clippers to give Roffler 500th career win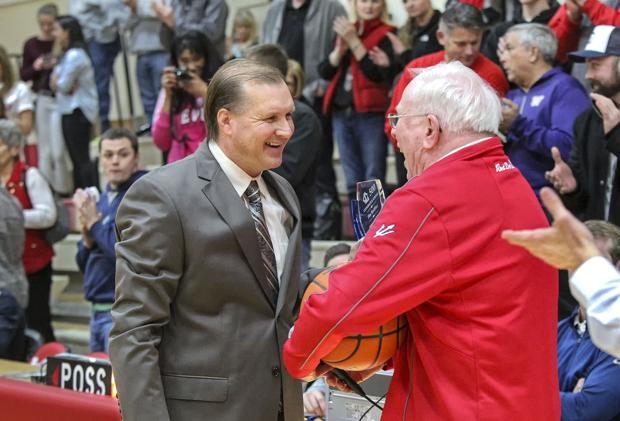 LCC head basketball coach Jim Roffler, left, shares a laugh with former coach Gary Earnest as Roffler receives the game ball and a plaque celebrating his 500th victory as coach of the Red Devils men's team.

Photo: Bill Wagner, The Daily News
Red Devils edge Clippers to give Roffler 500th career win
January 31, 2015 11:40 pm  •  By Rick McCorkle - Longview Daily News
Ryan Lee was fighting the flu, but he wasn't going to let the illness keep him from his mission.
His assignment, along with his Lower Columbia College teammates, was to beat South Puget Sound and get men's basketball coach Jim Roffler his 500th career victory.
Lee posted a double-double with 13 points and 11 rebounds, and Michael Dupree had a game-high 22 points as the Red Devils claimed a 72-69 win in NWAC Western Division play in newly-renovated Myklebust Gymnasium on Saturday.
The victory, the fourth straight for the 10th-ranked Red Devils, moved them to 7-2 in league and 15-7 overall. It capped a busy night that included christening the new gymnasium and fitness center and the halftime introduction of the newest inductees into the LCC Athletic Hall of Fame.
Fittingly, like many of Roffler's other 499 triumphs, his milestone win was what he referred to as "a grinder."
"It was a classic grinder like we've had through the years," Roffler said. "The guys didn't quit, were very coachable and found ways to make plays and get it done. There was a real calmness along with a toughness to our approach down the stretch."
The Devils, who trailed 39-32 at halftime, used consecutive 3-pointers from Jamie Ford along with free throws from Lee and Dupree to grab a 58-57 advantage — their first lead of the game — with 7:12 left.
back