Basketball News
Where are they now - Arinesha Smith & Collin Spickerman
Collin Spickerman
Clark Men's Basketball
2013-2014
Senior at Portland State University
NWAC Accomplishments
Averaged 17.9 points, 9.1 rebounds and 2.9 blocked shots per game for the Penguins... shot .542 from the field and .722 at the free throw line... named the NWAC West Region Most Valuable Player after leading his team to a 27-2 season, 16-0 in league play and Western Region Championship
Portland State University
Played in all 29 games, starting 18 as a junior... averaged 4.4 points, 4.3 rebounds and 2.6 blocks in 20.8 minutes per game... led the Big Sky Conference in blocked shots... his 72 blocks were second-most for a season in school history and his average (2.6) was best in school history... shot .467 from the field, .722 from the free throw line... blocked at least one shot in 20 straight games and 26 of 29 overall... scored a career-high 10 points with five rebounds, four blocks and three assists in a win over Northern Colorado (2/21)... blocked a Portland State record seven shots, along with nine points (4-8 FG, 1-1 FT) and six rebounds against Sacramento State (2/28)...
Has started in all 10 games as a senior for the Vikings, averaging 7.3 points, 5.0 rebounds, and 1.7 blocks in 22.0 minutes per game… scored a career-high 17 points on 12/12 against SIU-Edwardsville
Follow Collin's senior season:
Portland State University Athletics Website
Twitter: @PSU_Vikings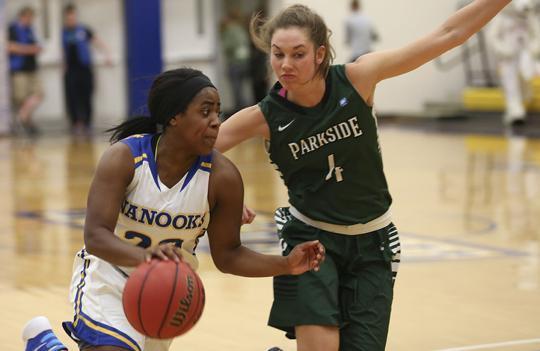 Arinesha Smith
Lower Columbia Women's Basketball
2012-2014
Senior at University of Alaska-Fairbanks
NWAC Accomplishments
Two-time NWAC West Region First Team member...NWAC All-Defensive Team as a freshman...Averaged 11.6 points, 4.1 rebound and 3.5 assists as a sophomore...Helped Red Devils finish 22-7, take runner-up in the West Region and place sixth in the NWAC Women's Basketball Championship...Voted to the NWAC Sophomore All-Star Game...Averaged 11.0 points, 4.2 rebounds and 3.6 assists as a freshman...Tallied 35 career double-figure scoring games...Career-high 30 points during sophomore season...Also compiled single-game, career bests of 11 assists and 10 rebounds.
University of Alaska-Fairbanks
Appeared in 16 games with 16 starts as a junior ... Lead the team in 3-point shooting percentage (.354%) ... Second amongst Nanooks in assists with 48 ... Averaged 8.8 points per game ... Tallied 11 steals, 2 blocks and 44 rebounds ...  Career high points with 17 on Jan. 8 against Saint Martin's ... Tied for third amongst Nanooks in minutes per game (25.7).  Has started in all 13 games as a senior for the 5-8 Nanooks…Averaging 8.8 points, 2.3 rebounds, 3.5 assists, and 1.2 steals in 29.2 minutes per game.   Matched her career high of 17 points on Dec. 19 against UC San Diego. Currently leads the team in assists with 46 total on the year.
Follow Danah's junior season:
University of Alaska-Fairbanks Website
Twitter: @AlaskaNanooks
back