Basketball News
Where are they now - Shannon Bland & Joseph Stroud
Joseph Stroud
Highline Men's Basketball
2013-2014
Senior at Central Washington University-NCAA DII
NWAC Accomplishments
Averaged 12.2 ppg, 6.9 rpg, 2.2 bpg (4th in the NWAC)…63.9 FG% 2nd in NWAC…Named to first-team all NWAC…first-team West Region, and West Region Defensive Player of the Year.
Central Washington University
Played in all 26 games as a junior and started 18…lead the GNAC in FG% .707 (129/183)… 2nd in the GNAC in blocked shots 69 total (2.7 per game)…Lead the team with 47 total offensive rebounds…Averaged 12.1 ppg, 5.5 rpg in 24 minutes per game…As a senior this year has started in 9 of 10 games…averaging 17.0 ppg, 7.0 rpg, and has totaled 27 blocked shots…Stroud is currently 5th in the GNAC in scoring, 7th in rebounding, 6th in offensive rebounds, 2nd in FG% (.616) and 1st in blocked shots...The Wildcats are 3-2 in conference play with an 8-2 overall record…Recently Stroud recorded 11 points, 7 rebounds, 4 assists, and 2 blocked shots in the CWU 81-77 upset win of #3 nationally ranked Western Oregon. 
Follow Joseph's senior season:
Central Washington University Athletics Website
Twitter: @CWUAthletics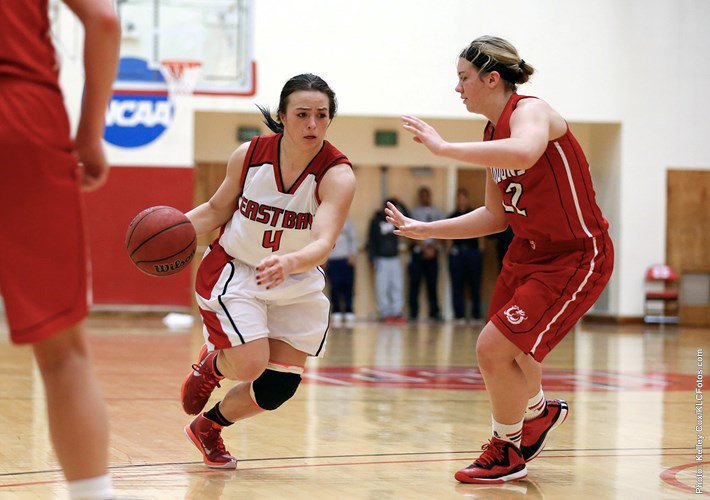 Shannon Bland
Columbia Basin Women's Basketball
2013-2014
Senior at Cal State East Bay-NCAA DII
NWAC Accomplishments
Member of squad which won the 2014 NWAC Championship...Posted season averages of 6.7 points, 4.7 rebounds, 4.5 assists, and 2.6 steals per game...Ranked among the top ten NWAC players with 141 assists and 80 steals...Named to the NWAC All-Tournament First Team
Cal-State East Bay
As a junior voted Cal State East Bay Female Newcomer of the Year...Started all 31 games as team's point guard...Scored go-ahead 3-pointer in program's first ever CCAA postseason victory (March 5)...Averaged 5.2 points, 3.8 rebounds, 3.0 assists, and 1.4 steals per game...Scored career-high 13 points twice...Posted 13 points in 17 minutes against San Francisco State (Feb. 7)...Dished out season-high six assists in two games...Ranked second on squad with 95 assists...Grabbed 11 rebounds against Cal State San Bernardino (Feb. 20)...Earned CCAA All-Academic Team honors.
As a senior averaging 11.4 ppg, 5.3 rpg, 4.1 apg…FT% (.860) is a team best and 4th in the CCAA…Recently coming off of a 20 point, 5 rebound, 3 assist, 63 FG% performance against CCAA opponent Stanislaus State…Cal State East Bay is currently 5-0 in conference play and 11-2 on the season. 
Follow Shanon's senior season:
Cal State East Bay Website
Twitter: @EastBayPioneers
back