Basketball News
Mt. Hood's "Fab Five" plays through adversity, relishes the chance
The "Fab Five" plays through adversity, relishes the chance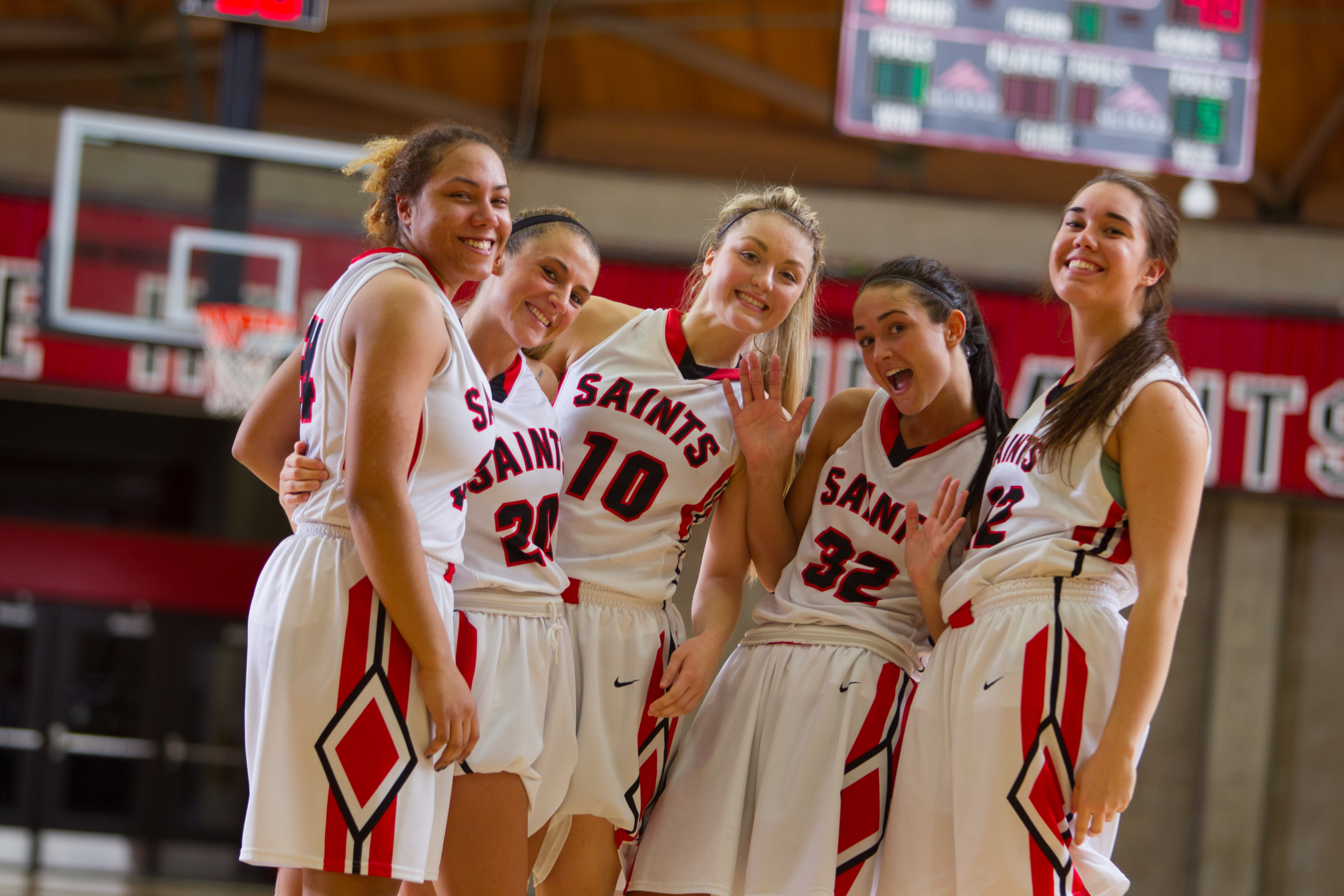 January 28, 2016 Jon Fuccillo | Photo by Jeff Hinds
When first-year women's basketball coach John Hawley took over the Mt. Hood Saints program, he surely wasn't anticipating the turn of events to come with his young and talented group of players.
Since Dec. 17, the Saints' roster has dwindled down to just five players on the active roster, due mostly to injuries. This came even after starting the season short-handed to begin with as Hawley arrived late on the scene after former coach Tyler Rose resigned last year, putting a dent in recruiting.
It has been quite the unique situation, but the "Fab Five," as they're calling themselves, remain hopeful and want to give it their all on the hardwood during their 40-minute games.
"I've never been a part of something like this, but the girls are really embracing it and playing with a lot of heart and these were the cards that we were dealt and I am just working with these five," said Hawley. "I am so proud of these girls for their efforts, regardless of winning or losing."
Madison Weaver, a 5-foot-10 sophomore, enjoys the thrill of each game, but also realizes what a toll it can take on the body, though you won't hear any complaining from her or her teammates. "We all get tired, but it's not as bad as people think it would be," she said. "Coach has us well prepared to run the entire game. The best part is that we get to play the entire game and that we all know each other well enough that we mesh really well together."
Weaver, along with 5-foot-10 sophomore teammate, Delanee Martin agree that it's unfortunate to be in this position, but in the same token, love the idea that all five players are on the same page and they can leave their emotions and complaints off the court.
"We realized very early that these were our five players, and complaining won't make us any better," said Weaver. "Other opponents' coaches are telling us that we are the hardest working team they have seen in a while."
One of those coaches is veteran Clackamas Community College head coach Jim Marineau. "I have a ton of respect for John and especially the team," he said. "To show up each night and play as hard as they have been, is a credit to them and the staff."
"I have never seen a team that only had five and will finish (the season with five); very impressive," Martineau said.
The Saints' Martin said even with five players, the team can compete in the NWAC regardless of the unusual circumstances, though a substitution here and there would sure come in handy.
"We go out there with the intent to win every game," said Martin, a Eugene native. "We don't expect for anyone, including ourselves, to feel bad for us. It doesn't change the way we play, we just have to be more cautious when it comes to fouling and chill out and back off some."
Winning hasn't come easy for the Saints this season. The team is currently 6-13 overall, 1-7 in conference play. Martin, along with Weaver and sophomore teammates Jesse Morris, Lacey Weddle and Alexis Imbler, want to turn things around in the second half of league action.
Morris noted how unusual it is, especially at the college level, to only have five players suit up each night. But she's as happy as anyone on the team in terms of playing time and learning through mistakes.
"I like getting to play so much and not have to worry about coming out," said the 5-foot-3 Morris. "We always joke around with each other when one of us messes up, saying, 'What's (coach) going to do, sub you out or something?' That's how it is with only five – though you make a mistake, you can't get your head out of the game."
The team plans on putting up some Ws in the Win-Loss column, but realizes it's still a work in progress.
"It definitely sucks to lose," said Martin. "But we don't take it to heart. We're good enough to beat any of these (teams). We just have to get it next time."
Weddle, a 5-foot-8 guard, said she was expected to start this season, but wasn't expecting these type of minutes. Now, she enjoys the opportunity to showcase her skills every game without any worry. "I kind of look at it as a positive because I never have to worry about being taken out of the game," said the Jefferson High School graduate.
"The most positive thing about this whole situation is that we have great chemistry and relationships, something we didn't really have last year," she said. "It has been a major turnaround and it really is feeling more and more like a family, which is great compared to before."
Weddle is averaging 13.1 points per game, while gathering 5.0 rebounds per contest. Imbler, a 5-foot-8 Milwaukie native, might average only 5.7 points per game, but she backs that up by averaging almost eight rebounds per game, which leads the team.
back