Basketball News
Ray Funk steps down as Yakima Valley College's men's basketball coach
Will stay on as AD; assistant London Wilson named interim coach
By Roger Underwood
runderwood@yakimaherald.com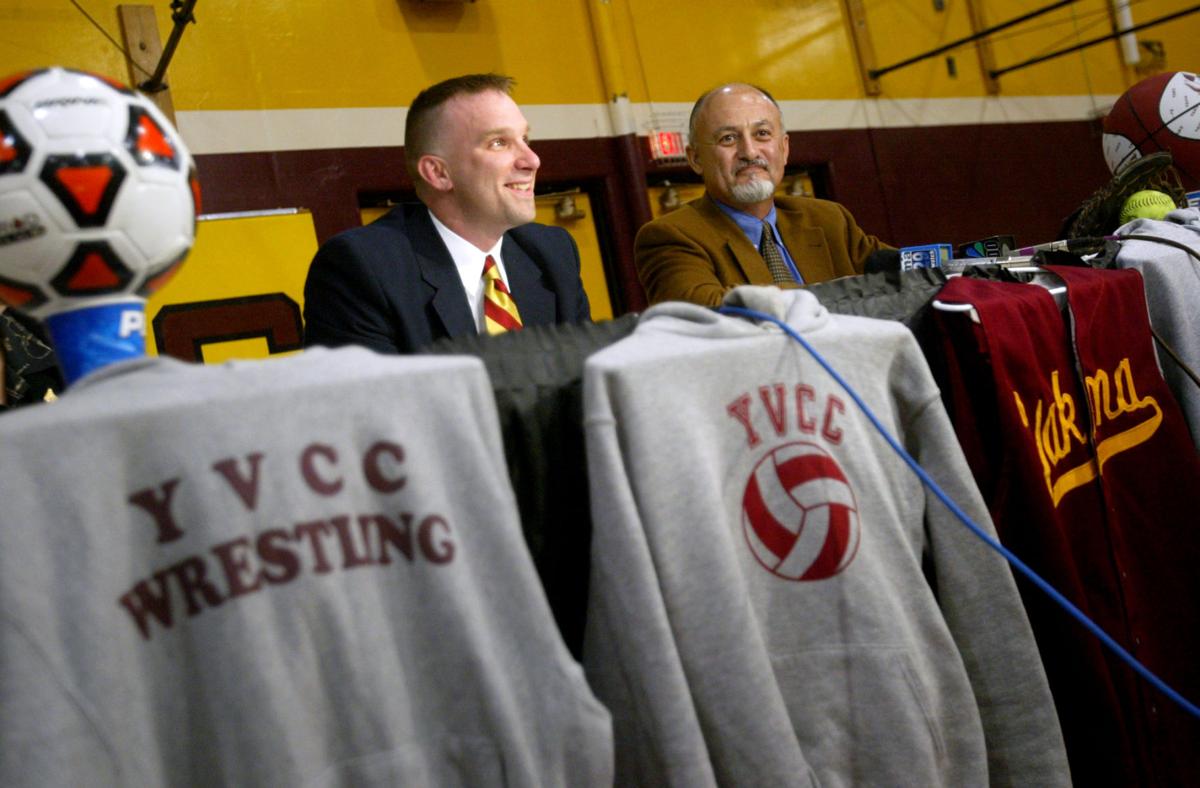 Ray Funk, left, seen in 2005 as he was announced as the new YVCC Athletic Director and men's basketball coach. (SANDY SUMMERS/Yakima Herald-Republic)
YAKIMA, Wash. -- As Ray Funk observed the changes surrounding him at Yakima Valley College, he couldn't help acknowledging an eventful time within his own family.
And with some of each situation factoring in his decision, Funk announced Tuesday that he's stepping down as the Yaks head men's basketball coach.
He will remain as athletic director, a position he's held along with the coaching job since 2005.
London Wilson, Funk's assistant during his 11-year YVC tenure, has been named interim head coach.
"When I took the job," Funk said during a telephone interview, "Lonni (Rodriguez-Funk, his wife) was working on her bachelor's degree and Trey (the couple's son) hadn't started school yet.
"Now Lonni has a master's degree and is an administrator here at the college. Her schedule is as busy as mine. And with Trey being a freshman (at West Valley) this year, his schedule's busy, too."

Wilson, 35, will be the fourth new Yaks coach during the coming academic and athletic year.
Adam Strom had earlier been named to succeed Greg Oldham as women's basketball head coach, Abigail Drollinger will be in her first season as women's soccer coach and Emily Escamilla will take over for the late Al Rogers as volleyball coach.
Read the entire article at the Yakima Herald.com
back