Basketball News
SW Oregon Men's Basketball Sort Fish
This article was published on The World website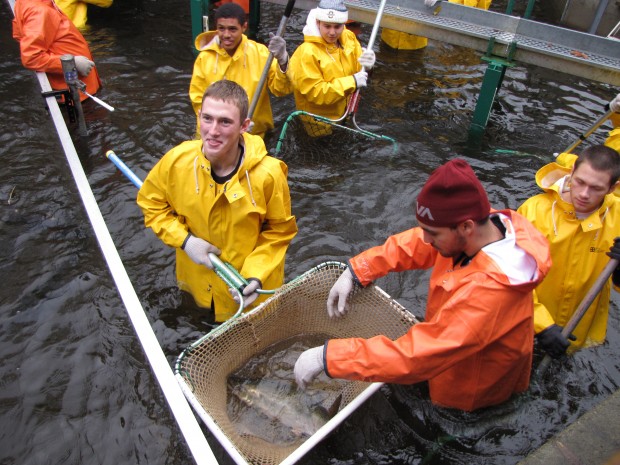 November 10, 2012 11:00 am • By Rachel Finney, The World
There was plenty of shrieking and giggling at the Morgan Creek Fish Hatchery last Friday — usual sounds when local children often help sorting and spawning efforts this time of year.
But last Friday, those sounds were coming from grown men on the Southwestern Oregon Community College basketball team.
I couldn't completely blame them, however. There was an incredible number of salmon in the holding tank, and many of them probably never had been that close to any type of fish.
When I arrived, the water in the raceway looked as if it were boiling. Upon further inspection, massive salmon churned and splashed around, waiting for their time to spawn. It was mesmerizing to watch.
Salmon Trout Enhancement Program biologist Tom Rumreich said they had already removed and spawned thousands of fish the previous two weeks, and there were still that many salmon waiting their turn to continue the salmon life cycle.
Volunteers, including Robyn and Lynn Hescock who live at the hatchery, said the sudden onslaught of rain pushed the fish up the system and into the hatchery. That day, the basketball players were sorting salmon from a holding tank into the raceway so STEP volunteers could note how many males and females, clipped or unclipped, made their way to the hatchery. Coho went back into the stream.
After the sorting, volunteers grossed them out with salmon silt and eggs, before the players sliced open a salmon of their own and watched the neon-hued spheres tumble out.
Then a more gruesome part of the process followed, as salmon were chopped into pieces to be tossed back into river beds. The carcasses are left to decay naturally in local rivers — as they would have done had they spawned there — giving back valuable nutrients to the waterway and the creatures living within.
But it was the actual sorting that was the most entertaining to watch. And I've watched more than my share of fifth-grade girls trying to net huge Chinook.
A few basketball players knew what they were doing — either they were fishermen or visited the hatchery last year on the team's first visit. Most of them hopped in the water with waders and raincoats and immediately started cringing as salmon bumped into their legs.
Some settled in, netting salmon after salmon to be counted by Robyn and tossed into the raceway with the other fish awaiting their fate. Cell phones were abundant on dry land, taking photos of the players with particularly big fish. Still, the salmon put up a fight that usually ended in lots of splashing and flopping around.
"Don't be a girl," was yelled multiple times.
Maybe they should have taken lessons from the only girl in waders that day.
Visiting from Olympia, Wash., 13-year-old Melodie Muggy was visiting family and stopped by the hatchery with her mom, Tami Holly, and Holly's aunt. Ten minutes before she arrived at the hatchery, she found out she'd be hopping in the water to help the sorting efforts.
She took to it immediately.
"You can tell she's loving it," Holly said. "She's having fun. She'll be the last one in the tank. They're going to have to pull her out of there."
That turned out to be true — she only got out to remove eggs from a female salmon for spawning. Melodie likes to fish with her dad in Washington, Holly said, and she's always loved salmon. But this was a unique opportunity.
Holly said Melodie has visited hatcheries in Washington plenty of times, but she's never had the chance to actually help.
"I didn't even know (this program) existed," Holly said. "Her dad is going to be so jealous that she got to do this.
"This is a great program. She would never be able to do this in Washington."
Around here, anyone can learn what goes on behind the scenes of the local salmon fishery. The Morgan Creek Fish Hatchery is hosting an open house today from 9:30 a.m. to 2 p.m., and the public is invited to try on some waders for hands-on education.
While it's unlikely you'll stay dry, you will learn about the efforts of Rumreich, Oregon Department of Fish and Wildlife biologists and their many STEP volunteers. Anybody is welcome to help spawning each fall — it's a big job and they only have so many hands to help.
Rumreich said they'll be spawning salmon at Morgan Creek through Nov. 28 before they move over to the Millicoma Fish Hatchery up the West Fork Millicoma River. For details on how to get involved, call the ODFW field office in Charleston at 541-888-5515.
back