Basketball News
Amaya brings world of experience to Skagit Valley menís hoops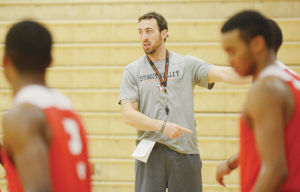 Former Mount Vernon basketball standout Tyler Amaya is in his first season as an assistant coach with the Skagit Valley College men's team.
Scott Terrell / Skagit Valley Herald
By Vince Richardson | Skagit Valley Herald
MOUNT VERNON ó Basketball is truly an international game.
Skagit Valley College assistant men's basketball coach Tyler Amaya, who got his start in Mount Vernon gyms, certainly knows that.
"I had to add pages to my passport," said the 31-year-old Mount Vernon High alum, who has spent years playing professionally overseas. "I have certainly seen the world thanks to basketball. I just love the game. I am passionate about the game of basketball. I love being in the gym, whether it be coaching, teaching or playing. It doesn't matter."
After college stops at Gonzaga, Dixie State and Western Washington, Amaya played professionally in the Netherlands, Germany, China, New Zealand, Syria, Tunisia, Saudi Arabia and Bahrain.
His basketball journey has continued at Skagit Valley College, where he is an assistant to Brock Veltri.
Amaya will be on the Cardinals' bench Saturday when they begin play at the Northwest Athletic Association of Community Colleges Men's Basketball Championships.
Most of the places basketball has taken him, Amaya has won.
"At Mount Vernon, Gonzaga and Western we won championships," he said. "It would be great to get Skagit back on top and bring a championship home."
Though he's now involved in coaching, Amaya hasn't written off his playing days.
"I've been on some great (professional) teams and I have been on some really bad ones," he said. "I've been the leading scorer and I've had to come off the bench. I've seen all sorts of different perspectives when it comes to the game, whether it be religious, ethnic or personal. I've always wanted to see as much of the world and meet as many different people as I possibly could."
For now, he's enjoying the opportunity to help coach the Cardinals, while also strengthening an injured knee that has kept him from playing for two years.
"The opportunity presented itself," Amaya said of coaching at Skagit Valley. "I love this area. I love to travel and see different things. I've been able to travel. But there was just something about knowing I could always come back to the Northwest."Amaya has learned a new thing or two while coaching.
"I've learned no matter how much experience you have you are going to make mistakes," he said. "I've made plenty of mistakes both on and off the court. And no matter how many times you tell players don't do this or don't do that, everyone has to grow and learn from their own mistakes.
"I've also learned about small details. How to coach guys up and teach and the limits to push. Coaching here has just been a great opportunity. It's a lot of fun. Everyone at this school has really welcomed me. We have a very good team and they have a lot of fun playing the game I love. It's given me a chance to run with the guys (on the court) and give a piece of my soul back."
Amaya was playing in Syria when the struggles in that country started.
He was living in the only all-Christian village in the country and was treated well. He was his team's first American import.
"It was awesome," said Amaya. "It was my best experience playing overseas. I scored 40 points and pulled down 20 rebounds in one game while playing there. The people were fantastic. They treated me so well."
That was the good part. What followed was a bit harrowing.
"Then we were watching CNN and they were talking about all the snipers on the roofs," he said. "I remember myself and another player getting outside the stadium and he just pushed my head down and we ran for two blocks and got on the bus. Nobody said a word. That was the same time Hillary Clinton was telling all Americans to leave the country. Inside my house, I was always wondering who was outside. Situations like that really make you appreciate where you are from."
And now he's back in Skagit County, recalling feats such as the time he scored 50 points yet his Saudi Arabian team lost 73-71.
So, how does Amaya do when he goes up against the players he now coaches?
"I haven't been beaten one-on-one yet," he said. "So I guess I'm not all the way down the hill. I've been pretty lucky. I've been fortunate to be able to use my athletic talent to its fullest."
back