Baseball
Baseball News
Mt. Hood alum Taylor Williams nearing return to MLB's Brewers
2017-03-16 17:54:56
Taylor Williams was the 2012 MVP of the Southern Region during his sophomore year with the Saints and and All-NWAACC First Team and All-Pacific Association Division Third Team selection.
Prospect Taylor Williams nearing return
Hard-throwing right-hander almost back from Tommy John surgery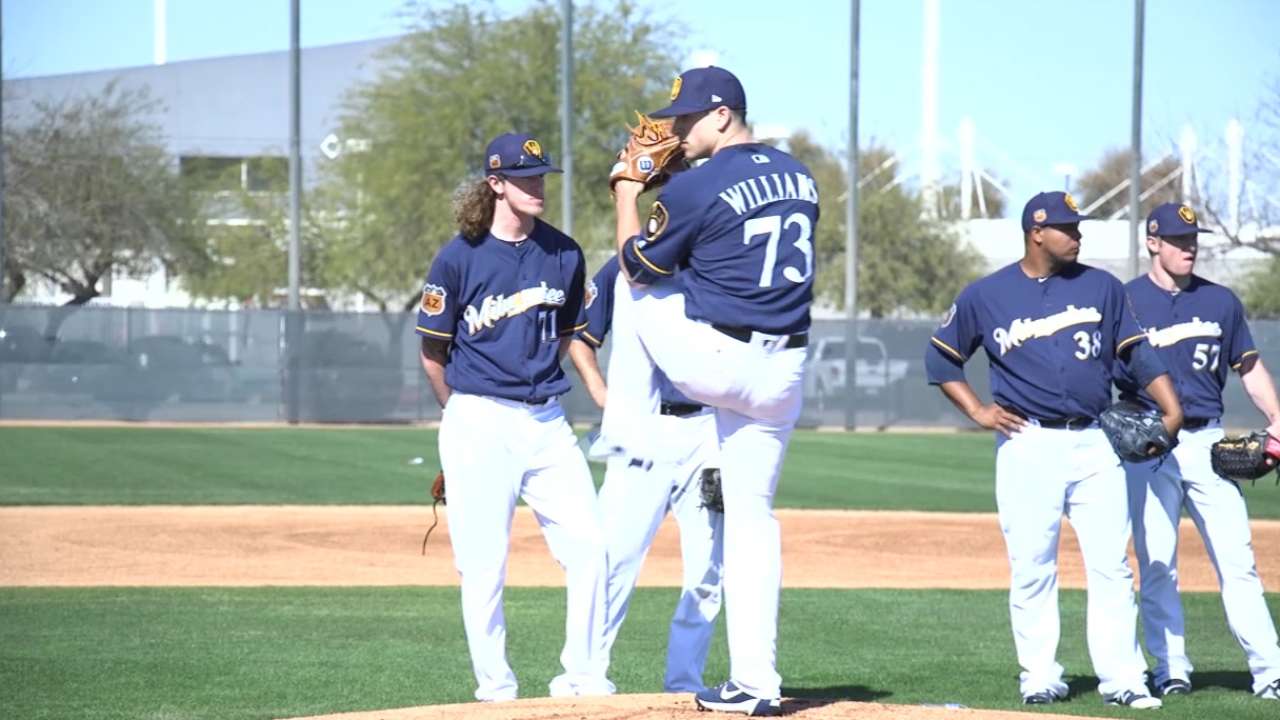 By Adam McCalvy / MLB.com | @AdamMcCalvy | March 11th, 2017
PHOENIX -- The finish line is on the horizon for Taylor Williams, who is itching to throw his first pitch in a real game since 2014. The right-handed Brewers prospect threw 25 pitches of live batting practice to a pair of hitters Saturday, and while neither Ryan Cordell's nor Brett Phillips' bat left their shoulders, it represented another step of progress in Williams' road back from Tommy John surgery.
"I'm pretty much normal again," said Williams. "I'm just focusing on what I need to stay focused on. I'm not really worried about the big picture of where I'm at in the process of things."
In that big picture, Williams is one of the Brewers' most interesting prospects, back on the map after missing two full seasons. He was a star of 2014 Spring Training, throwing power fastballs and disappearing sliders in live batting practice, and drawing raves from Brewers hitters. But it was probably too much too soon, Williams says in hindsight, because it led to an elbow injury, an unsuccessful effort to avoid going under the knife, and finally surgery on Aug. 11, 2015.
Williams recovered in time to throw in the instructional league, and was impressive enough -- touching 97 mph, according to one report -- that the Brewers made Williams a surprise addition to their 40-man roster in November, rather than risk losing him in the Rule 5 Draft.
Now the hope is that Williams will be a full participant by the start of the Minor League season.
"Right now, it's just getting through Spring Training and improving every day," Williams said.
Read more and view video on MLB.com
back