Baseball
Baseball News
LCC Baseball: Championship coach leaves for Tulane University
2017-10-14 14:15:11
Rick McCorkle rickmc@tdn.com
Oct 12, 2017 Longview Daily News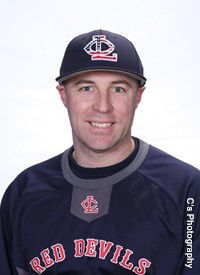 It was an opportunity Eddie Smith couldn't pass up.
Smith, the baseball coach at defending NWAC champion Lower Columbia College, has accepted a position as lead assistant baseball coach and head recruiter at Tulane University in New Orleans.
"Tulane is one of the top programs in college baseball for the last 20 years, and when you get a chance like this, it's something you get excited about," LCC coach Eddie Smith said. "It all came to pass late last night (Wednesday)."
Like his LCC predecessor, Donegal Fergus, Smith will be an assistant coach at the Division I level. Fergus is currently on staff at the University of Washington. Smith's successor as Red Devils' leader is former LCC player and current Associate Head Coach Eric Lane.
"Eddie's a rising star, and this is a great opportunity for him," LCC Athletic Director Kirc Roland said. "He did a great job for us here, and we will be moving forward."
Smith joins a Tulane program led by ex-LCC standout Travis Jewett. Another assistant coach, Billy Jones, is an LCC alum, and assistant Tighe Dickinson is a Montesano native who coached at Montesano and Edmonds College.
"I've known these coaches for a long time, and these types of hires are people you know and trust," the 33-year-old Smith said. "The whole process went quickly with a mutual understanding. I'll fly out Sunday, and be ready to go on Monday."
This is not Smith's first foray into Division I baseball. After earning a spot as a walk-on infielder at Notre Dame in 2005, he later served as director of baseball operations and later as an assistant coach at the University of Virginia. He also served as an assistant at Santa Clara University and Notre Dame before coming to LCC.
During his four seasons at LCC, Smith was 146-49 overall, and 83-19 in the West Region. He won NWAC Championships during the 2015 and '17 campaigns. In 2015, Smith was named the American Baseball Coaches Association/Diamond National Coach of the Year for the Pacific Association Division. He was also named the ABCA/Diamond Pacific Association Division Regional Coach of the Year, and was a three-time NWAC West Region Coach of the Year.
"Eddie is a bright young coach who is a great recruiter," Roland said. "He's also very detail-oriented, and it was all we were looking for when we hired him."
Lane is excited about the opportunity, but he will miss Smith.
"It's a little surprising for me, but it's not surprising that Eddie was able to get a job like that," Lane said. "It's a great opportunity for him to move on and do that in his career."
This is Lane's first head coaching opportunity, and he'll retain LCC's other assistant coaches, Ian Sanderson and Kurt Lupinski.
"Eddie is a tough act to follow, but I'm happy for Eric who is a great Red Devil," Roland said. "Eric will put his stamp on the program, and he's been a large part of our success both as a player and as a coach."
Some of Smith's and Lane's assignments with the team will be parsed out to the other assistants. Sanderson will take over mentoring pitchers, and Lupinski will tackle a larger role in recruiting.
"Coach Sanderson has pitching background and will help our pitchers," Lane said. "Coach Lupinski has done a lot of our recruiting and see a lot of players during the summer. We're excited to get out and continue to see future Red Devils."
Smith said the toughest part about taking the new job was notifying the current group of Red Devils. He met with players at 7:15 Thursday morning.
"It was one of the hardest things I've ever done," Smith said. "It was hard for me because we had recruits come here because I told them I wanted them. Six or seven players visited me in the office, and many others sent texts after the meeting."
Lane noted it will be business as usual for the next two weeks of fall ball, culminating with the annual 100-inning fundraiser on Oct. 26.
"We have a good group of sophomores and our system is in place," he said. "The sophomores are our leaders and it will be a challenge for them, but I think they're up to it.
"We don't want to change a lot since we already have a good product."
back