Basketball News
Clackamas Community College Athletics Hall of Fame - June 8
2019-06-06 13:28:21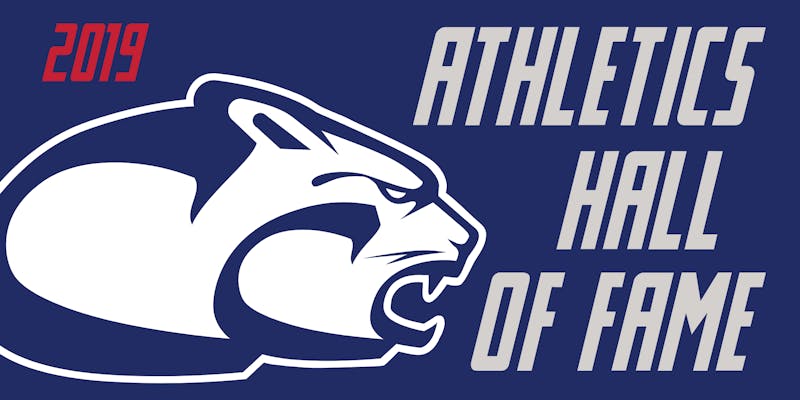 Clackamas Community College Athletics Hall of Fame is Saturday, June 8 at 5:00pm-9:30pm. View Registration page.
Kathie Woods (Head Volleyball Coach/FT Faculty, 1983-2015)
Head Volleyball Coach (1983-2015)
Amassed an 836-522 record as a coach and 61.6% winning percentage.
Holds the record for most wins by and NWAC volleyball coach, and behind only 5 other 2-year volleyball coaches in history of Junior College Athletics
Won 2 NWAC Championship titles
Earned 3 NWAC Coach of Year honors, Fellowship Christian Athletes (FCA) Coach of the Year, and multi recipient of Southern Region Coach of the Year honors
Won 7 Southern Region titles
Inducted into the NWAC Hall of Fame, class of 2008 with her 1996 team that went 12-0 in region play and 50-9 overall
Her teams have been recognized by the American Volleyball Coaches Association (AVCA) 8 out of her last 10 years receiving the AVCA Team Academic Award for combined team GPA of 3.3 or higher
Coached 7 AVCA All-Americans since the awards inception in 1996
Still active as NWAC Southern Region Commissioner for over 25 years, as well as stints as the Volleyball Sport Committee Chair and on the NWAC Executive Board
Dedicated over 36 years and counting of service to Clackamas Community College as a coach, mentor, and FT Faculty member
Paul Fiskum (Head Softball Coach/FT Faculty/Community Recreation Director, 1977-2013)
Clackamas Community College Alum (1971-73)
Community Recreation Director (1977-1989)
Head Women's Softball Coach (1987-2006)
Asst. Men's Basketball Coach (1976-1977, 1979-1989 & 2009-2015)
Full-Time Faculty, HPE (1989-2013)
Asst. Football Coach (1976-77)
Won 8 NWAC Softball titles including 2x 3-peat Championships
Appeared in 12 Softball Championship title games
Placed 4th or better in NWAC Softball Championship tournament 17 of 19 years
Won 2 NWAC Championships as an Assistant Men's Basketball Coach (1887 & 2010)
Retired at Full-time faculty in 2013
Inducted into the NWAC Hall of Fame class of 2017
Dedicated over 42 years and counting of service to Clackamas Community College as an Athlete, Coach, Full-time Faculty, Part-time Faculty and Community Recreation
Rick Baggett (Asst. Track & Field Coach/Pole Vault Coach, 1992-2008)
Has coached for over 36 years at the High School, Collegiate, and Olympic levels
Coached 17 NWAC Champions in Pole Vault including 2 CCC Hall of Famers
Was an Asst. Track & Field Coach under CCC Hall of Famer coach, Mike Hodges
Lead 6 individuals to NCAA and NAIA National Champions
Coached 80 State Champions at the High School level in Oregon and Washington
2 High School National Records
Owner of Willamette Striders Track Club, based in Oregon City, where he trains Pole Vaulters, and track & field athletes of all ages.
Brian Freeman (Men's Basketball, 2004-2007)
Two-year starter for Men's Basketball team
Second-team All-Southern Region selection as a Freshman
Set NWAC Championship tournament records for highest Free Throw percentage (90%, making 72/80 Free Throws) and largest win margin (42 points) his freshman season
Won NWAC Championship title (2007)
Named NWAC Championship Tournament MVP (2007)
Went undefeated in Southern Region as a sophomore (14-0) earning the team Southern Region Champion title as sophomore
Winningest record in CCC Men's Basketball history for a single season (29-4)
Name Southern Region MVP as a sophomore
Earned a full-scholarship to Long Beach State University, graduating with a Business degree in 2009
Had a 9-year professional basketball career in Poland, Holland, Austria and France
Spending 6 years in France, lead team to 2 League Championship and named league MVP
Professional writer for Blazers Edge, NBA basketball
Kriss (Demos) Dammeyer (Softball, 1996-1997)
Two-time NWAC Champion (1996 & 1997)
NWAC All-tournament team selection (1996)
Helped team to 31+ win seasons both years
Named NWAC Tournament MVP honors (1997)
Earned First-Team All-Southern Region honors as a Freshman and Sophomore
Graduated with an Associate of Arts degree
Went on to play for Western Oregon University an0d received Bachelor's Degree in Business Management (1998-2000)
Hermiston High School Graduate (1995)
4-time Scholar Athlete award at Hermiston High School
Selected top Female Athlete of Hermiston High School upon graduation for her 4 years of accolades as both a student and athlete.
Founder and Executive Director of Made to Thrive, an organization based in Hermiston, Oregon whose mission is to stop the cycle of child abuse, neglect, and poverty- dedicated to reshaping the lives of at-risk and foster youth through mentoring, funding, equipment and transportation so they have the opportunity to experience a positive and empowering environment through sports, adventure activities, music, dance and art.
1995, 1996 & 1997 Softball Teams
NWAC three-peat Champions
Second softball team to three-peat in NWAC history
Second CCC Athletics team to three-peat in NWAC Championships
Combined record of 101 wins and 21 losses
Produced 16-1st Team All-Conference Selections, 4-2nd Team All-Conference Selections, and 2 Conference MVP's
Produced 15-All tournament selections and 3-Tournament MVP's
ROSTER: Dawn Beard, Shawna Bimel, Kelley Comstock, Lisa Cullison, Dawn Davis, Kriss Demos, Lisa Gander,Denise Haselwood, Lisa Hosford, Brandi Kamrath, Rachel Kidder, Laura Kinnee, Jody Koehler,Michelle Kolbo, Nicole Lindgren, Robin Lisak, Holly Lorenz, Danielle Madigan, Cori Menzia,Laurie Nielsen, Jackie Obrist, Stacy Peacock, Brenda Ruppel, Tracey Scharer, Alicia Scott,Danielle Soldani, Candee Stanley, Wynta Thompson, Megan Thompson, Robin Viol,Korrine Wellin, Joell Whitton, Maja Anne Wirkkla Head Coach- Paul Fiskum Asst. Coaches- Denise Nasuta, Bob Rapp
back